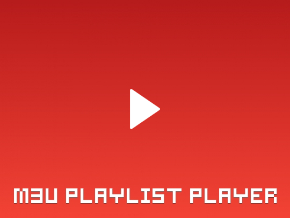 M3U Playlist Player (With Ads)
Add the M3U Playlist Player channel. (Switch to US Roku Channel Store if not available in your region)
Select "New Playlist" from the menu.
Type the name of your playlist.
Copy the link of any of our playlists here.
Paste the playlist URL. (Use the Roku Remote app on your smart phone for a fast way to enter the playlist URL)
Exit the player and return to Roku's main menu for changes to take effect.
Reopen the player and select your playlist.
Enjoy our large selection of remote playlists!
IMPORTANT: Large playlists take a long time to load on this platform. Please be patient!
NOTE: Technical support is not available. Comments and suggestions are welcome.